Welcome To My Homepage
Recommendation Letter by Director "John Furse"
JOHN FURSE
ISAN PRODUCTIONS LTD
PART STUDIO

5 - POMONA HOUSE - 111 NEW KINGS ROAD
LONDON

SW6 4SJ
Tel:

0207 384 2408 - Mob:

07773 269446
Email:

jfurse@tiscali.co.uk - Website:

www.johnfurse.co.uk
TO WHOM IT MAY CONCERN:
I write as the Director, Executive Producer and Writer of the British cinema feature film 'Blind Flight' (2003), the authorised dramatisation of the true story of Irishman Brian Keenan and Englishman John McCarthy's experiences as hostages of militias during Lebanon's Civil War in the 1980's.
After an unsuccessful attempt to find Lebanese actors in London for the film our internationally recognised Casting Director Celestia Fox and our production team agreed that we needed to undertake the expense of finding actors in Lebanon. We employed an additional UK Casting Director Victoria Beatty to go to Lebanon and act on our behalf on this.
Victoria returned from Beirut with a number of Lebanese actors' auditions recorded on videotape. The auditions, drawn from hundreds of Lebanese actors who attended the casting sessions in Beirut, were stunning. Celestia and I were able to conclude the casting of all the Lebanese roles with complete confidence and great ultimate success.
Colette Abboud-Scatton, the Lebanese Casting Director hired through our Beirut production company partners Djinn House, was central to this success. Colette found the huge number of actor candidates, including the enormously talented actors whom we finally selected. Colette also organised and supervised the very crowded schedule of auditions in only a very few days for Victoria.
I met Colette when we came to Beirut to try and commence filming in late 2002. Apart from her wonderful, indeed absolutely vital work for our production she was also a most harmonious and creative addition to our production team, constantly resourceful, hard-working, well organised, reliable and a pleasure to work with.
'Blind Flight' went on to be distributed worldwide to great critical acclaim. It received 11 nominations at film festivals around the world, including Best Actor Award at New York's Tribeca Film Festival in 2004. The film continues to have repeat screenings on the USA's Sundance Channel and the UK's BBC television.
The exceptional quality of the work of all the actors in 'Blind Flight' remains a highlight of the film's acclaim. I would be very happy to be contacted for any further information regarding Colette's terrific contribution to our film.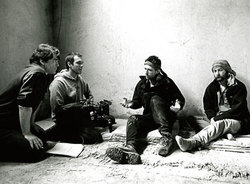 About the film: BLIND FLIGHT 2003
Blind Flight, the sole authorised film dramatisation of Brian Keenan and
John McCarthys's ordeal as hostages in Lebanon & starting Ian Hart and
Linus Roache, was released in the UK in April 2004.

The film was premiered at the London and Dublin Film Festivals.

It was selected for the TriBeCa (New York), Sydney , Taormina ,

Karlovy Vary, Melbourne, Auckland & Wellington, Hamburg and

Stockholm festivals.